A portable fridge is a big investment. It's likely to be the most expensive item in your camping kit. This does not necessarily mean you need the most expensive fridge on the market, it comes down to individual requirements.
1. Is a bigger fridge capacity better?
A couple will usually use a 25 – 55ltr fridge where a large family may require 65ltr or more.
If you're packing light with powdered milk and canned veggies, you will need less fridge space than those taking fresh food.
Consider the length of your trip/s and if you can re-stock en-route.
Vehicle space may be a limiting factor for the size of your fridge.
2. Popular fridge brands come with a good reputation
The big brands will have more service agents and readily available parts.
A little more money spent now will most likely reduce problems in the future.
Big brands come with a better warranty.
Make sure the brand has a reputation for the right reason.
3. Fridges with good insulation will use less power

Look for fridges with thick insulation.
Plastic fridges will conduct less heat than metal, while white fibreglass offers the best insulation.
A cover adds insulation and removes the issue of metal or plastic heating up.
Better insulation reduces the workload on the compressor.
4. A good quality portable fridge will withstand the rugged roads 

You can stand on the lid of a strong fridge, ask the sales guy to show you.
Metal casings are tough, great for the back of the ute.
Plastic will flex when impacted, a good option for touring.
White fibreglass is strong but prone to cosmetic damage, ideal for the boat.
5. The compressor is possibly the most important part of a fridge
The compressor warranty is a good indicator of the manufacturer's confidence in their product.
Look for brands like SECOP (formerly known as Danfoss) and Sawa Fuji or Arnoldan.
A good quality compressor will keep your food cold for years of outback travel.
6. Power consumption is a great way of comparing the efficiency of 12V fridges
The current draw of a fridge is measured in "a/h" or "amps per hour".
Most good electric fridges should use between 1 – 2 a/h over a 24hour period.
Power consumption should be based on real world testing –  Look for stats like '- 5°C interior, 32°C ambient, 12 V = 0.89a/h over 24hours'. This means that from a 12V power supply, a fridge set at 5°C in a 32°C environment will consume an average of 0.89 amps/hour over 24 hours.
7. Features may not be an indication of quality, but some features are priceless
Battery protection saves your battery from damage, especially useful if your only power supply is also your vehicle starter battery. Look for variable protection. Some fridges are set to a very low protection voltage (usually 9.5V) to protect the compressor, but not your battery.
The ability to set the fridge to a specific temperature is very convenient.
Thermometer – monitors the interior temperature of your fridge.
A bung in the bottom makes cleaning easy.
Flush mount cooling elements – having the elements build into the side of the fridge makes for easier cleaning than bolted in elements.
Removable lid – handy for accessing your fridge in hard to reach places!
8. Do you need a dual-zone fridge/freezer?
A fridge/freezer operates as a fridge or freezer, but not both at the same time, whereas a dual-zone fridge/freezer has two compartments and works as a fridge and freezer at the same time.
Some dual zone models have a removable internal divider to allow the entire unit to be a fridge or freezer. The downside of this is that the fridge may use more power if it is relying on the smaller cooling element most dual zone fridges are equipped with.
Some dual zone fridges have independent compartments and thermostats, allowing you to control the temperature of both the fridge and freezer separately.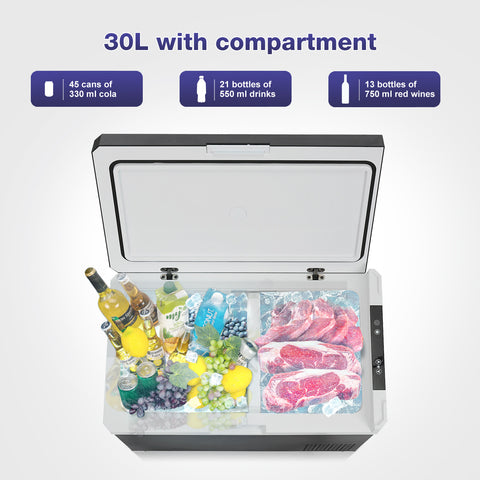 9. There are plenty of cheap options around… you get what you pay for!

This doesn't mean you need the most expensive fridge.
Cheaper fridges can be a great option for occasional use and often come with more features.
Expensive fridges should have all the features and the reliability to go with them.
At Hcalory, our fridges are always in stock at every day low prices,  if you need some help making a decision ,contact us-hcalory@hcalory.com.